It's the season of mists and mellow fruitfulness – if that isn't just too romantic (and OK a bit over-used we know – but hey, it's still lovely!).  There's quite a nip in the air and the clocks go back in a couple of weeks – definitely time to think about changing a few things for winter.  And, according to some new research from the Sleep Council (spotted via the BBC news site) the average Brit at the moment is getting just six-and-a-half hours' sleep a night.  As usual, that's down to a whole host of things but what the researchers could definitely say is: if you can increase your nightly sleep by even a bit (to over seven hours) you'll be a lot healthier.
So, onto beds, our beds (a good bed has got to make a difference, right?) and Grand Designs Magazine, the November issue, is featuring one of ours big time.  The new Bonaldo Eureka bed gets a fab write up and the GD team also highlight the autumnal mustard and anthracite accessories used alongside the Eureka's fresh white headboard and base, with its super-sized anthracite grey stitching.  Feeling sleepy anyone?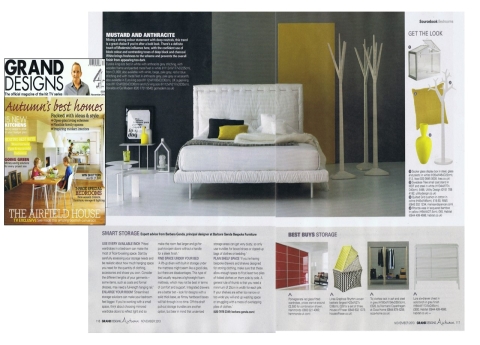 Kitchens, Bedrooms and Bathrooms, always sniffs out some amazing new design in their great 'trend spotting' Design News pages, and November's issue is no exception.  They love our new Octa dining table, also from Bonaldo.  And, as they rightly tell you,  if you speak Greek you'll know that Octa means eight, which is also the number of metal legs supporting this superb table. Looks great doesn't it!
So, that's your autumn/winter sleeping and eating sorted – all you need now is a nice, cosy sofa (did we mention our great new sofas…).  Pop in or give us a ring …  we'd love to show you all our latest designs – they're just too good to keep quiet about!