We're still buzzing from our trip to Milan's Salone del Mobile and all the incredibly inspiring new designs … lot's of striking exhibition sets and new products – including Italian furniture-maker supreme Bonaldo.  And one of the things that we love about Bonaldo (we know, we know – we've mentioned 'love/Bonaldo' in the same sentence before) is that there's always an interesting little back story to everything they do.
Their Octa table (Octa's Greek for eight… but you knew that…) is also the number of  legs supporting this fabulous new table, with a look, we're told, inspired by the traditional game of Mikado or pick-up sticks!  Definitely a major game player as far as we're concerned.
We see no ships… well we do with the Prora table!  A great re-working of Maurio Lipparini's classic for Bonaldo with a metal base, curved to look like the bow of a ship! This version has a fixed top with a new finish in beautiful natural walnut or greige walnut. Totally inspired, slightly mad but we love it and it's a real show-stopper!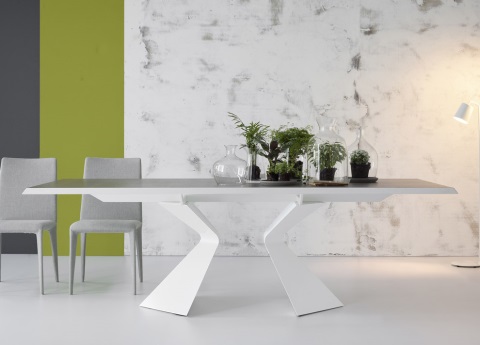 In the bed department… designer Alain Gilles (remember the great Welded table from him – Red Dot Award/Best of the Best?) has come up with Contrast.  And we think he's got yet another award-winner with this incredible 'Alice-in-Wonderland' style super-sized headboard – and very, very cleverly designed so that you can change the headboard cover whenever you like. What a great idea … a bed with multiple personalities. Now that's different!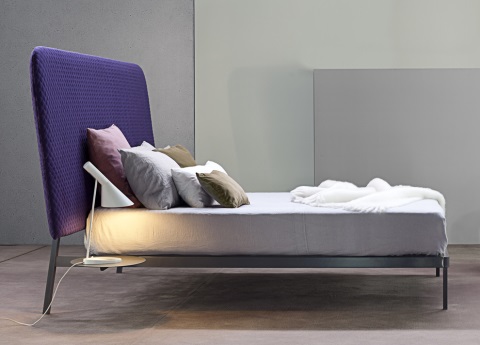 And then there's Joe.  Simply Joe.  A beautiful bed designed using one perfectly calibrated curve, connecting the headboard with the base.  So simple, and according to the designer (clever old Lipparni again) "without ostentation or over-design". We like it – although being Italian there's always room for a little bit of ostentation, and Joe has a piped perimeter border which ever-so discreetly says: "hey, take a look at my curves!"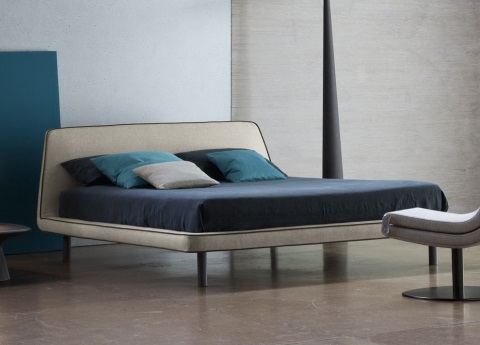 Wondering if 'sartorial stitching' has had it's day?  Absolutely not.   We spotted it in Milan a couple of years ago and it's still going strong and used beautifully here on the Eureka bed.  Great big, over-sized zig-zag stitches run around the perimeter of the headboard adding a touch of colour (or just great detail if you go for a matching colour) and enhancing the luxurious quilted effect.  Gorgeous!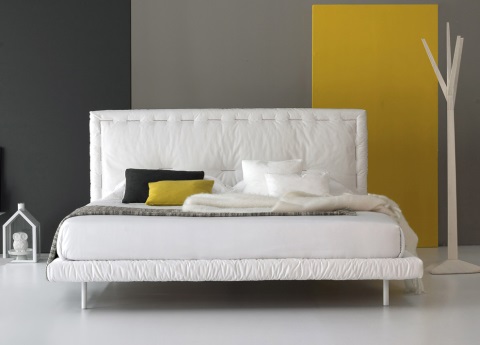 Click here to see more of Bonaldo's great designs. And keep an eye out for our newsletter, coming soon, which will have a special 10% off all Bonaldo voucher in it.