We love the Milan Furniture Fair – its absolutely enormous, & right at the cutting edge of the market. If its going to happen, it will happen here. We visited all of our wonderful contemporary furniture suppliers, several of whom presented shiny new collections that are actually ready to buy now! First up is Manutti Outdoor Furniture. We sell an awful lot of Manutti furniture (we are their largest UK dealer) & have been working with them for a few years now. New for 2013 are several collections.
First up is Elements, a sleek white modular collection with option LED lighting. The top plate is quartz composite, the cushions are magnetically attached to the backrests, & the backrests can be adjusted.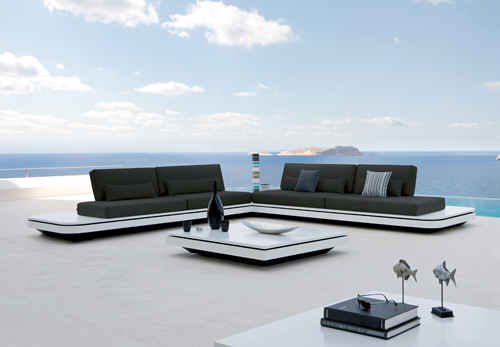 Next is Loop. Covered in Nautic Alcantara (as used by BMW) or Nautic Terry (as in terry towelling!) Loop is comfortable as well as beautiful, & of course fully weatherproof/waterproof.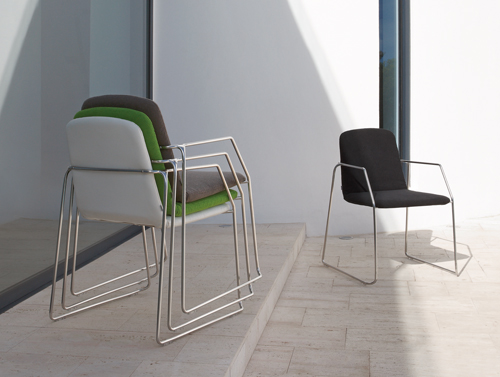 Then there is Helios. A full collection of chairs, sun loungers & bar stools Helios is a new version of Enyo, in slightly different colourways with a few extra pieces added. This style never goes out of fashion, & quality like this is always worth having.
Finally, the beautiful Squat collection is available in a new colourway, with dark powder-coated metal frame & taupe/grey fabric. This fabric is incredible, we sat on it at the show & none of us could believe how soft it was – exactly like indoor fabric! Also new are the headrests shown here, perfect for a little extra comfort.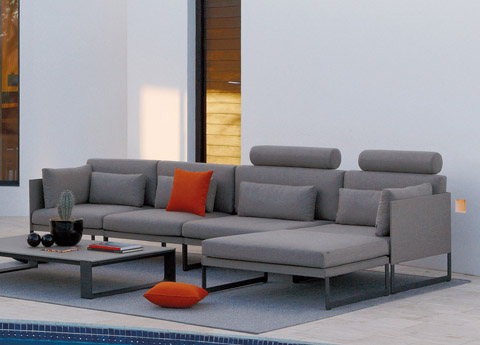 See the whole collection here. Manutti sell all over the world too, so if you are in Canada find it at our friends Jardin de Ville, in NZ at Dawsons.