We have a large selection of both hinged door & sliding door wardrobes, from Italy but our customers often want to know which they should choose. Well, they both have advantages & disadvantages…
Hinged Door Wardrobes have the largest choice of sizes, & are available in small sizes from 90cm wide up. Their doors usually have handles, many of which are a real design feature, & there is a great choice of colours & textures. Available in a large number of different size increments, these wardrobes can also be fitted into corners, which most sliding door wardrobes don't do. In addition, they can be less expensive than sliding door wardrobes, especially once you start looking at gloss lacquer or special glass doors. Fitted wardrobes are made by putting 'filler panels' of the main wardrobe or door material on the side of your wardrobe so that there are no visible spaces (these will need to be ordered with the wardrobe).  Wardrobes with hinged doors can also be cut to fit into angles, for a loft, under the stairs etc.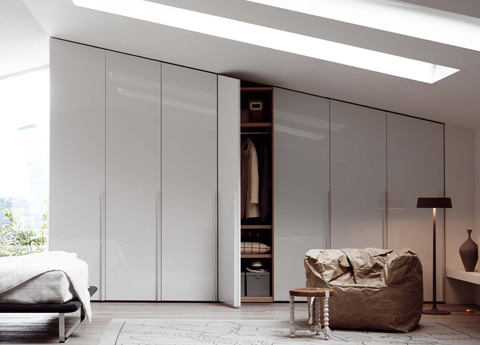 Sliding Door Wardrobes are perfect for large spaces. Although they don't have as many choices of sizes we have four different collections, so should be able to provide a close fit & like hinged door wardrobes can be fitted with panels of the wardrobe finish at the ends to make them fitted wardrobes. The minimum size of sliding door wardrobe is 2 metres & they usually look better in even larger sizes. An advantage of  sliding door wardrobes is that the doors don't open outwards, which means that not as much room is needed in front of them. These wardrobes don't fit in corners, although we have a model that does (the Dover sliding door wardrobe, the only one we have ever seen).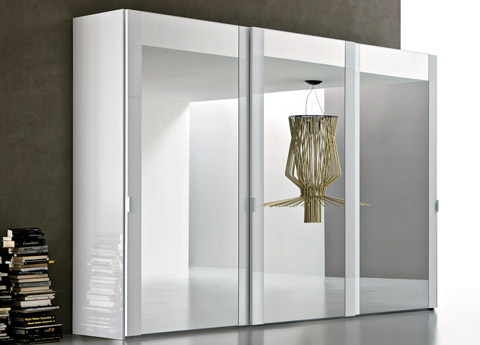 So, in a nutshell
Wardrobes with hinged doors
are less expensive
are smaller
can be cut to fit under angled ceilings & stairs
can be fitted in corners
have some fantastic handles to chose from
Sliding door wardrobes
are larger
can't be cut at angles
have a more restricted choice of sizes
can save space as doors don't need room to open out
have bigger cupboards
Look great in large sizes, as they have fewer doors
Which ever type of wardrobe you decide on our in house designers can help you find the very best solution, & our expert fitters can install it for you – either in or just outside London, or in/near Edinburgh. To talk about your requirements please feel free to contact us by email, phone us on 020 7731 9540, or visit our London showroom at 565 Kings Rd, London SW6 2EB (nearest tube Fulham Broadway.
Our hinged door wardrobes can be found here, & our sliding door wardrobes can be found here.