One thing we are constantly asked by our customers is how child friendly various items of dining furniture are. No one wants a dining table that will break or have too many sharp edges, which usually rules out glass dining tables – but they also want something that isn't possible to scratch/leave marks on, which rules out many of our lacquer & wood dining tables!
So when someone showed me a new collection of beautifully designed contemporary dining tables that use a brand new indestructible material that looks a lot like stone/slate/wood I snapped them up! Made in Italy, these table are extending (a big plus), very reasonably priced, & available in great designs & colours with matching child proof, affordable dining chairs.
We have one in our showroom so you can see for yourself how tough this material is. Here are three of my favourite dining tables from this collection, which can be seen here.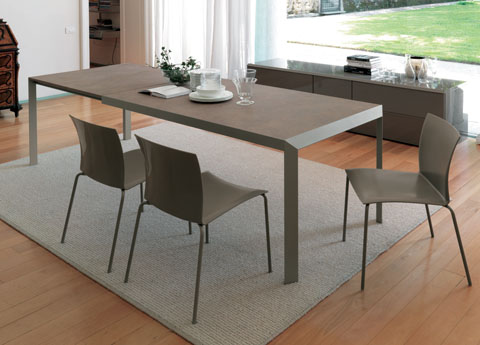 This is the one we have in our showroom, the Tango extending dining table. I just love these colours, they are unique to this collection. Our is in Porphyry which looks a LOT like stone, with a Fango legs/frame.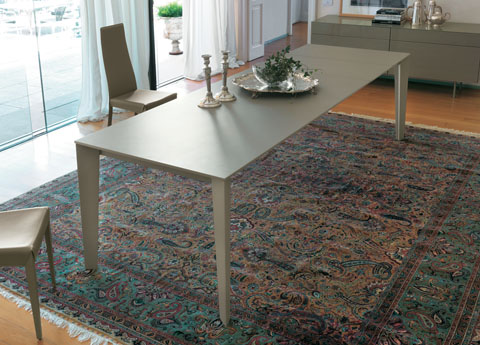 Similar to the Tango extending table, but also available in a lacquered metal composite (as shown in the photo) which is also fairly child proof, the Cosmic extending dining table has plenty of sizes to choose from, from 120cm to 290cm & has really elegant legs. My second favourite.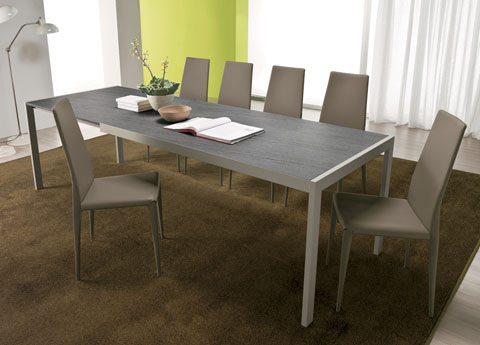 The Lima extending dining table is shown here in the graphite 'oak' which actually looks really nice. Im not usually a fan of wood-effect finishes, but the Italian factories are coming out with some really chic new materials. And of course this is totally indestructible, which is even better!
The dining chairs in the photos will be added, but are not currently on the website, but we do have other chairs from this collection online.
And of course if you are lookung for new dining table we have plenty of other modern designs to choose from in our main dining tables section here.