Is it too early to start thinking about winter fires? Not for us..we like to plan well ahead & so are currently updating our Bioethanol fires section on the website, adding new fires from Cocoon fires, Decoflame & Ecosmart fire.
Go Modern has been selling liquid bio ethanol fires (then known as flueless fires) since 2007 (I think we were the first, but can't be sure) because as a London based company we would LOVE to have an open fire but know we can't (it's not allowed in London) & these really are the next best thing. It's difficult to explain but the heat is different from central heating or gas fire heat, it spreads throughout the room & is ultra cosy. Simon calls it 'Ski Chalet' heat & we now use bio ethanol fires as our sole source of heating at our showroom in winter. Which is pretty cool considering our contemporary showroom is set over three floors & we have large glass skylights in the largest part.
And the fact that these fires are super green is an added bonus. No one wants to add to the load on our poor planet & bioethanol is green both to produce (from sugar beet) & to burn.  They are also clean, there is NO soot, & they don't throw any sparks out. The liquid fuel is an awful lot like meths, we have split ours all over the surrounds & floors of various places (our own fault for not using the special pumps we have) with no ill effects, there are no residual stains (theres no grease or colour in it) & no smell other than a rather pleasant methys ish smell when you first light them.
So if you like the idea of an open fire but never though you could have one why not visit our bioethanol fires section? They are in the 'Complements' section at the top of the page.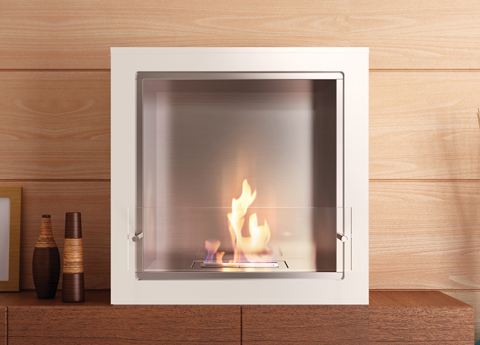 To see our new collection of bioethanol fires from Cocoon Fires click here, to see our fires from Decoflame click here & to see our collection of fires from Ecosmart Fire click here.